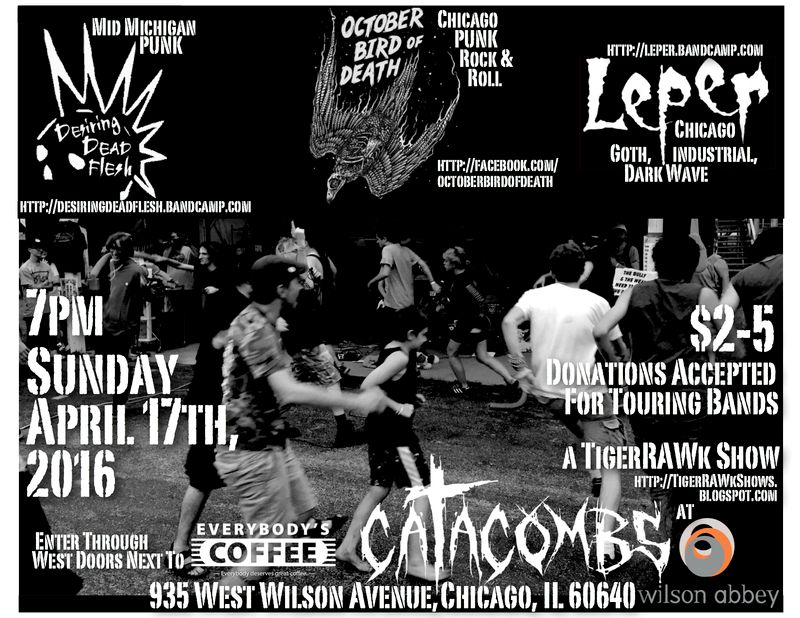 Sunday April 17th, 2016
Desiring Dead Flesh
will bring Mid Michigan Punk to Uptown Chicago for the Catacombs first event at the
Wilson Abbey
.
TigerRAWk Shows
is blessed to work with Kos of
Anti-World System
to bring this show as an opening of
Catacombs
- a place for underground punks to join together in community & music. Also on the bill is
October Bird of Death
- Chicago Punk Rock & Roll and
Leper
- Chicago Goth, Industrial, Darkwave.
Doors will open at 7pm. Please enter through
Everybody's Coffee
.
$2-5 donations will be accepted to help the touring bands.
Catacombs at Wilson Abbey
935 West Wilson Avenue
Chicago, IL 60640
Desiring Dead Flesh
http://desiringdeadflesh.bandcamp.com
https://www.youtube.com/playlist?list=PLh9ZwEF2QQpOayiVt_EVvXZU2DamlCoBH
Leper
http://leper.bandcamp.com
https://www.youtube.com/playlist?list=PLDC18A75CAE64B308
October Bird Of Death
http://facebook.com/octoberbirdofdeath
https://www.youtube.com/playlist?list=PLh9ZwEF2QQpM5BU9q9AgUCeyoEnhtyrm7
EDIT: For full video coverage & a bit of a blog, go here:
http://atigerrawkfilm.blogspot.com/2016/05/the-first-catacombs-show-wilson-abbey.html