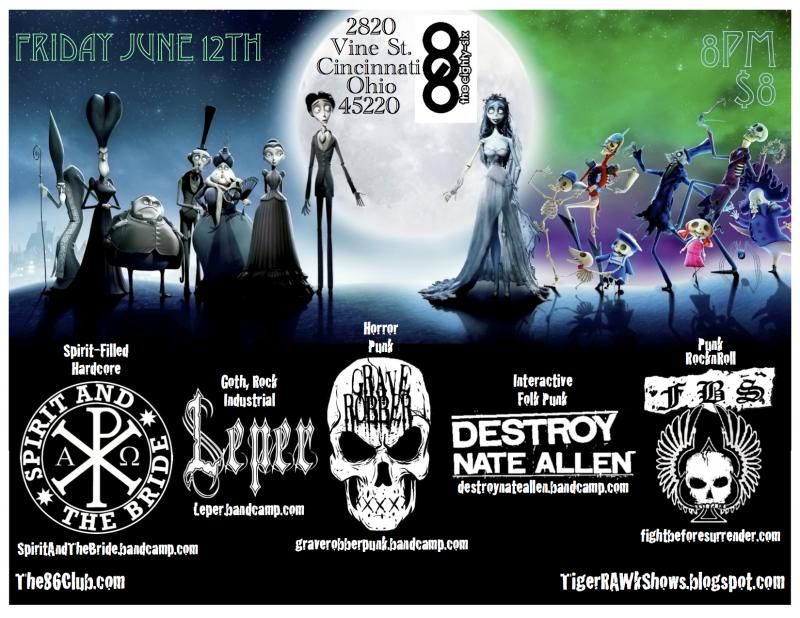 Friday June 12th at
The 86 Club
will be a RocknRoll celebration leading to the following day where
Joel
& Elphie get married!
This show is open to all! It is intended for anyone to come & share in the celebration with various artists & musical styles with one common theme…friendship & family with Joel & Elphie.
The 86, where Joel volunteered & met Elphie in August of 2011, is gracious enough to host this night. Doors will open at 8pm. Cost will be $8 at the door.
The bands playing are:
Spirit and the Bride
- Spirit-filled Hardcore
http://spiritandthebride.bandcamp.com/
Leper
- Goth Rock, Industrial

http://leper.bandcamp.com/

Grave Robber - Horror Punk
http://graverobberpunk.bandcamp.com/

Destroy Nate Allen - Interactive Folk Punk
http://destroynateallen.bandcamp.com/

FBS - Punk RocknRoll
http://www.fightbeforesurrender.com/

The 86
2820 Vine Street
Cincinnati, Ohio 45220

8pm
$8 at the door.

BE THERE!