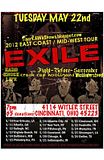 Tuesday May 22nd, 2012 there is a punk show at Witler. Exile is on tour from Texas (please be generous & feed their gas tank. FBS (Fight Before Surrender) is also jumping on part of this tour coming down from Columbus. Crash Cap Hooligans will reveal their existence at this show...in other words it's the debut show for Crash Cap Hooligans. Other locals joining the fun are Hard Knock Life, & Misunderstood.
Exile - Texas punks
FBS (Fight Before Surrender)- Columbus punks
Hard Knock Life - Northen Kentucky punks
MisUnderstood - Middletown punks
Crash Cap Hooligans - Cincy punks
Show up at 7pm and music will hopefully start soon after.
Bring a donation of $5 to help keep the music alive.
Show up at the following address:
4114 Witler Street
Cincinnati, Ohio 45223
TigerRAWkShows.blogspot.com